Drywall & Painting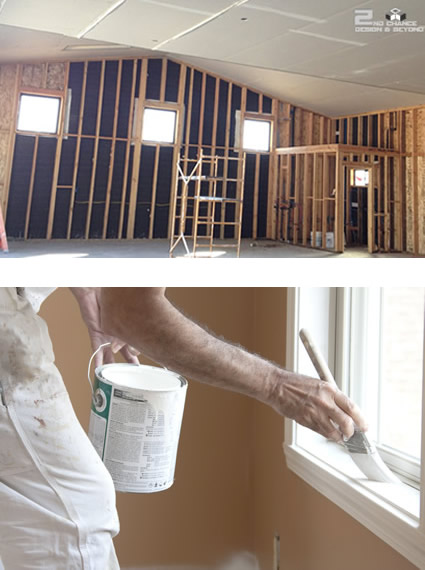 We offers a full line of paint and drywall solutions tailored to your specific situation. Whether painting a wall or repainting your entire home, 2nd Chance is able to competitively handle your needs. We use the highest quality materials and installation methods to ensure you satisfaction. .
Interior / Exterior Paint
Drywall Installation / Repair
Staining & Faux Finishes
There are several options to choose for your interior paint:
Flat Finish
This paint finish is often used for interior painting of walls. It's especially good if you have to camouflage small wall bumps, cracks, or other imperfections, as this finish does not reflect light. However, a flat finish has little or no clean ability. It may be that a second coat will be needed to cover up scratches or marks.
Eggshell Finish
Eggshell paint is a very slightly shiny variety of interior paint. It is so named because it resembles the texture and very slight shine of an actual eggshell. Eggshell finish used for interior painting is also the easiest wall paint to clean. To get the true eggshell effect, two coats must be applied and preferably untouched or cleaned for at least 30 days allowing the paint to set.
Satin Finish
The term "satin" paint refers to one popular kind of paint finish. This finish is often used in rooms and exterior areas where some durability is needed, but high-gloss paint is not desired. It is not as easily cleaned as an eggshell finish and is more shiny than an eggshell finish.
Semi-Gloss
Semi-gloss paint is most often used for interior painting on doors, trim, and cabinets in kitchens and bathrooms. It is easily cleaned and lays down a nice, subtle shine, without being too glitzy. Take care with pre-paint preparation work, as poorly prepared surfaces can be a bit distracting when highlighted by a semi-gloss surface.
Gloss
High gloss paints have an almost reflective quality, as their shiny finish mimics the look of enamel or plastic. Though not widely used in home interiors, it is becoming more popular for a dramatic look on cabinets, trim, and furniture in very formal and very contemporary settings. This finish will magnify any surface imperfections, so careful preparation and sanding is essential before painting with high gloss paints.